Gurkha Warriors presents "LOOT 2″Grand Red Carpet Premiere.
The most anticipated sequel to the movie LOOT is all set to be premiered in UK in the presence of two superstars Dayahang Rai and Saugat Malla.  
Ticket Price: £15.00
Door Open: 3 PM  Artist Welcome: 3.45pm to 4.00pm
Starts:4.00pm
Contact Info:
Peeter: 07877445540
Albin: 07412535999
See the poster for the full event details.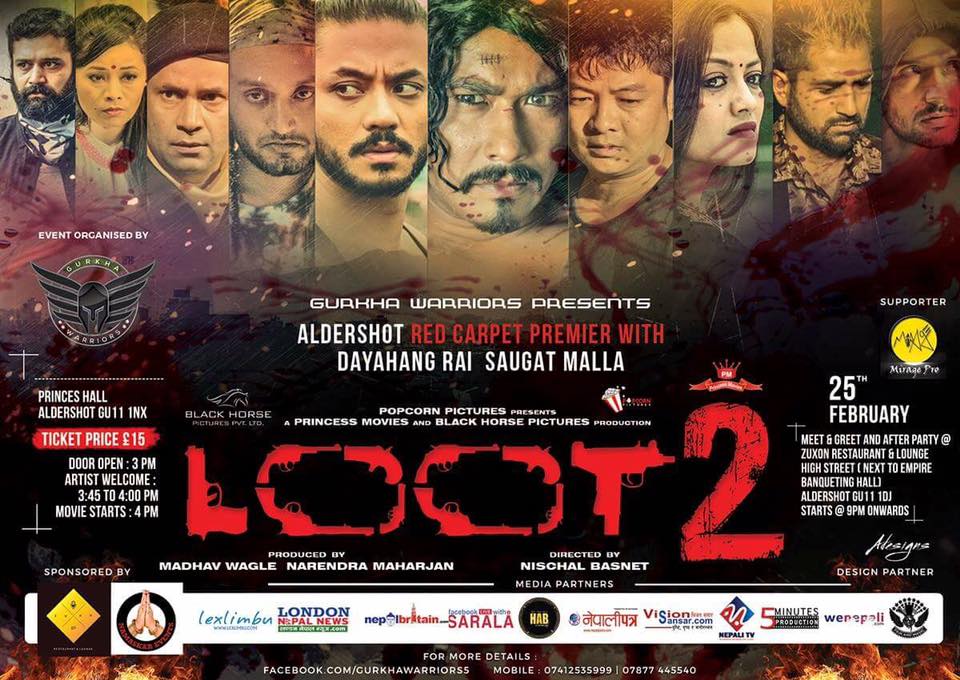 Loot 2 is directed by Nischal Basnet and the producers are Madhav Wagle and Narendra Maharjan. We could see some few new casts and old casts in the movie.                     LOOT 2 is expected to do  better than the first movie. The song 'Thamel Bazaar' is already a viral hit over the youtube and the other media platforms.                                    Song: Thamel Bazar featuring Alisha Rai and Dayahang Rai 

Loot which released on 13 January 2012 was the bank heist movie and became the huge hit of the year. "Dimaag Laga Paasa …. " the  line  spoken by Saugat's character became meme over the facebook and other social media.
If you haven't watched the first movie yet please follow this link
Similarly Loot 2 looks like both heist and the revenge story after watching the official trailer.
Official Trailer

Lets hope movie does well.
See the Q&A between Lexlimbu and director Nischal Basnet 
At the end of the event Gurkha Warriors have organised Meet and Greet with Stars of the movie. And that's not all , there is After Party at ZUXON Restaurant & Lounge.
So, set the date 25th February 2017 on your calendar !