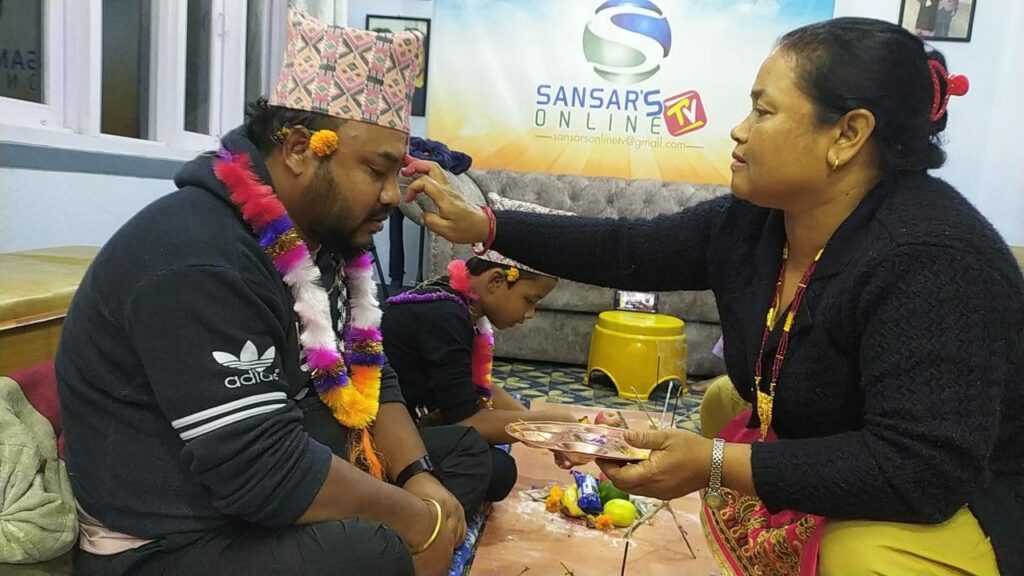 Lalitpur (Oct. 27). Bhai Tika, which is celebrated on the last day of the five-day-long Tihar festival, is being observed across the nation on Thursday.
On the fifth day of Tihar also known as Yamapanchak, sisters wish their brothers long life, health and wealth with respect, faith and loyalty by putting Pancharangi or Saptarangi tika as per age-old traditions.
After sisters put tika on their brothers' forehead, brothers also put tika on their sisters. It is widely believed that worshipping one's sisters leads to good luck and prosperity.
Even though Bhai Tika can take place throughout the day today, the auspicious time is at 11:37 am, said Prof Srikrishna Adhikari, chairperson of the Nepal Calendar Determination Committee.
The committee said that this year, the sisters who are putting tika to the brothers should turn to the East and the brothers who are receiving the tika to the West.
Following the religious and social tradition sisters give their brothers food packets including dry fruits and selroti after applying tika, while brothers show their respect by offering gifts to their sisters as symbols of good fortune.